PROFIBUS Fiber Optic Repeater Application of Guangzhou Sewage Water Treatment Plant
Date:2019-02-14
Project Overview
:


Urban sewage

treatment plants

plays an important

role in the

comprehensive management

of ecological

civilization construction

,

energy conservation

and emission reduction.

Since the distance between

the sewage

treatment projects

in

each station

farther,

and

influenced

by

the external environment

,

the ability

to

communicate

and

network devices

requires

high

stability

,

therefore

,

ring

Industrial Ethernet switches

has been

more widely used

to

the field

of

communication

transport layer

.


The

sewage treatment plant

service area

is mainly

residential

sewage

and

industrial wastewater,

serving a population of

15

million people, covering

an area of

30 square kilometers

.

The

sewage treatment plant

to protect the quality of

drinking water sources of the inhabitants

of the region

plays a vital

role. Therefore,

the quality of

the sewage treatment plant

system operation

and stability

becomes extremely important position

.


The

sewage treatment plant

automation control

system is divided into

two levels

, the first

level is the

control and management

level

(

control center), the second stage

is the

process control level

(

field control layer).

Because

the sewage treatment plant

and

pumping station with a

far

distance

. Therefore, using

two

CK6062

industrial Ethernet switches connect to PLC from transformer

room to built two

redundant ring network

s

,

PLC

site

were used

six

Comark Ci-PF12-S

bus

repeaters

to build dual-

redundant communication. respectively, and

sludge dewatering

plant

and ultraviolet

disinfection

plant

consisting of a

fiber optic

ring network

to solve the

scene

interference

,

lightning and

distance problem

,

also

to ensure the two

separate

bus

transport

stability

and independence of

the system

.

Network Structure: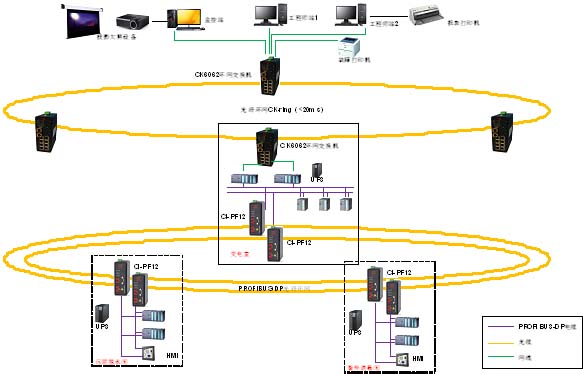 (Figure 1)
Device configuration and number:
CK6062-S 6*100M electrical interfaces, 2*SC fiber interfaces, IP30, 35mmDIN Qty: 4pcs
Ci-PF12-S Support PROFIBUS protocol, single mode ST interfaces, IP30, 35mmDIN,DC12-36V Qty: 6pcs
Industrial Ethernet switches main function introduction:
No main structure design, easy to use
6*100 Base-TX interface, 2*100 base - FX interface
Fiber interface support ring network redundancy, healing time < 20 ms
Support based on the VLAN ports, IEEE802.1 Q VLAN
Support QoS - IEEE802.1p/1Q
Support static multicast filtering and Port Trunking
Support port mirroring
Supportr the rate limit bandwidth and the broadcast storm protection function
Support 8k MAC address table
Support two-way alarm input I/OPort, 1 way alarm outputI/OPort
Normal temperature (0 ~ 70 ℃), extend the wide temperature model (40 ~ 85 ℃)
Conclusion:
This system used fiber optic repeater and Ethernet optical fiber transmission, it can solve the electromagnetic interference, ground loop interference and lightning damage problem, greatly improving the control signal reliability, security and confidentiality, also solved the problem of the short transmission distance at the same time, it break traditional user is limited to use expensive products from abroad, Shenzhen Comark provide localized service, the most cost-effective products, its can replace the imported similar products.